27 Feb

Survivor Recap

As we reflect on 2020, our hearts are full of joy and gratitude. We saw an increase in grant requests from local breast cancer survivors needing additional support during the pandemic and we were able to say "YES". With the continued support of our donors, sponsors, and volunteers we were able to increase our financial assistance to our Survivors Grants Fund to serve more survivors than any other year.

It has been a challenging year for many nonprofits in our community and we are grateful we were able to have our 8th Annual Run Jen Run 5K and Festival and celebrate 13 of our survivors in person before everyone's world changed. That day reminded our supporters and our community of our mission, our purpose, and how we continue to carry Jen's Legacy. As Karen, a Go Jen Go grant recipient shared at the awards ceremony, " Go Jen Go was able to help us cover some monthly bills and even helped support my daughters going to summer camp. The first time we saw them smile in quite some time."

In 2020, we have served over 240 survivors and increased our financial assistance by 15 percent. We celebrated 13 survivors at our race, 19 meals were donated to survivors through Cheers Jen Cheers, and 15 survivors were supported through Operation Spread the Joy. The numbers speak for themselves, but what truly shows the impact and what keeps us working hard are the notes from our survivors letting us know how Go Jen Go is helping them through their fight against cancer. Your support and donations are helping many women, men, and families meet their day to day needs, which helps them focus on their fight against cancer.

Here are a few examples of how your support is making an impact on our grantees. Their words are more powerful and telling than any words we could share.
"I can only say thank you so much & I can pick up my medication now and God Bless each and every one of you for what you do for others in need. Thank you." ~ Belinda G.

"I just wanted to say thanks! You'll never know how much these funds mean to my family. Because of these funds our lights won't be turned off and I can put a little towards my medical bills. I feel blessed to have you guys in my corner." ~ Renee B.

"You do great things and I am so blessed to be the recipient of your great work! This gift has offered my family some much needed relief and we cannot thank you enough for the generosity and kindness your organization has shown us. I never thought about the snowball effect in life that being sick can have. It is not just the disease you are fighting, it is also all that the disease does to disrupt your world. You and your team help to take some of the disruption and stress away! THANK YOU! I am forever grateful and when I'm on my feet again, will find ways to pay it to someone else fighting." ~ Mara E.
You all have helped us support amazing women like Belinda, Renee and Mara. Helping to give them peace of mind and help them know they can pay their rent, utilities, and cover day to day needs. Even during a difficult year for many – financially, emotionally and physically, we saw continued support and even from some amazing breast cancer survivors giving back to support other breast cancer survivors.
"I say it every time – but I don't know that I can ever repay you for the way you stood by me that awful year. I truly had moments when I did not know if I would make it – you stood by me, believed in me, and supported me like no one else. So just trying to repay you gives me great joy." ~ Annika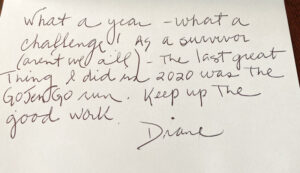 It's been a year no one expected, but one thing we knew is that we would continue to serve the breast cancer survivors in our community and continue to carry Jen's Legacy. Thank you.
If you'd like to learn about our new Jen's Legacy monthly donor program, click here. Become a founding member by the end of 2020 and help us continue to serve in 2021.